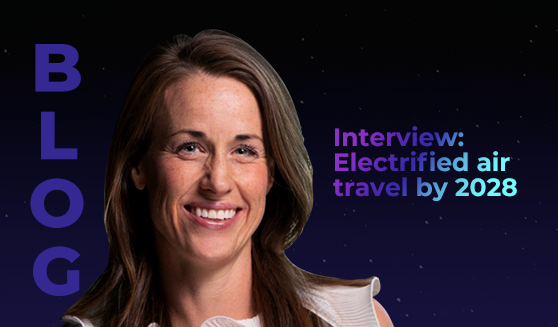 Did you know that in the not-too-distant future you could be flying to work in electric aircraft, or heading to a vertiport (instead of a train station or an airport) to catch a domestic flight?
If you didn't know this, you're not alone. But as we've talked about before on the LEAP blog, electric air travel is very much in development. We asked #LEAP23 speaker Sofia Graflund (Chief Operating Officer at Heart Aerospace) for the latest updates from her company – with designs for new, bigger capacity aircraft already released to the public.
Spoiler: investments in electric aviation are on the rise, and Heart Aerospace services are working towards being operational by 2028.
Could you share any key milestones that Heart Aerospace has reached over the last 12 months?
"At our Hangar Day on September 15th, 2022, we unveiled significant design updates to our first electric aircraft. The new airplane design, called the ES-30, is a regional electric airplane with a capacity of 30 passengers, and it replaces the company's earlier 19-seat design, the ES-19.
"In September, we also unveiled our integrated test facility, ITF, which means we have essentially built an entire aircraft on the ground. We can already touch and feel and even fly this aircraft. Instead of working in isolated areas we are all working in the same and representative environment together…which means we learn from each other and save both money and time."
Electric air travel is a burgeoning industry that's not yet a common topic of conversation for the general public. What work do you think needs to be done to help citizens understand and trust electric aircraft?
"In our journey towards entry into service in 2028 we need to be transparent towards the general public and highlight the fact that flying in a certified airplane is the safest mode of transport. And just like we believe in testing prototypes early, we believe in engaging with the certification authorities from the very start of our program.
"That's why we applied for our Design Organization Approval with EASA already in 2019 and we've already applied for a TC with EASA for the ES-30. We've even applied for a production organisation approval with Transportstyrelsen in Sweden, for the mass production of the ES-30."
What has the response been so far at a government/regulatory level? Is there strong support for Heart Aerospace's aircraft, or for electric air travel in general?
"As the general awareness about electric aviation has increased over the past few years, so has the support from government/regulatory level.
"In the US we've seen the introduction of the Inflation Reduction Act which offers significant tax breaks to green industries, which was followed recently by the Blueprint to decarbonize America's transport sector.
"The EU has followed suit with a planned state aid overhaul which would include further targeted aid for new production projects in strategic clean tech value chains.
"In Sweden, where Heart Aerospace is head-quartered, the government recently pledged at least SEK 15 million per year to fund research into electric aviation. The government will also analyze the possibility to introduce electric airplanes in procured air traffic."
What are the top benefits of electric airplanes? Could you share any data on their environmental impact, compared to current aircraft?
"The ES-30 will be able to fly 200 km on batteries alone, which means zero operational emissions. Using our reserve hybrid system to extend that battery range to 400 km would still mean 50% less emissions compared with a 50 seat turbo prop flying the same distance."
And finally, what are you most looking forward to at LEAP 2023?
"Meeting like-minded companies and hearing more about the different initiatives and developments around the globe that drive the transition to a more sustainable world."
Thanks to Sofia Graflund at Heart Aerospace. Discover LEAP 2023 to learn more.